Would you buy a mattress without trying it out first? We did. I'm sure that everyone has seen ads for at least one of the popular internet mattress brands like Casper, Yoga Bed, Purple, Ghost Bed, or Tuft & Needle. Our mattress was nearing the end of its life so my husband and I took the plunge and bought one online, without having tried it first. We did a lot of online research and read countless reviews. We found a few websites that did in-depth comparisons of the leading brands with cross-sections of the materials and graded them based on different criteria and scenarios. It was very interesting, and maybe helped us narrow down our choices, but still couldn't tell us how we would feel laying on one of the beds.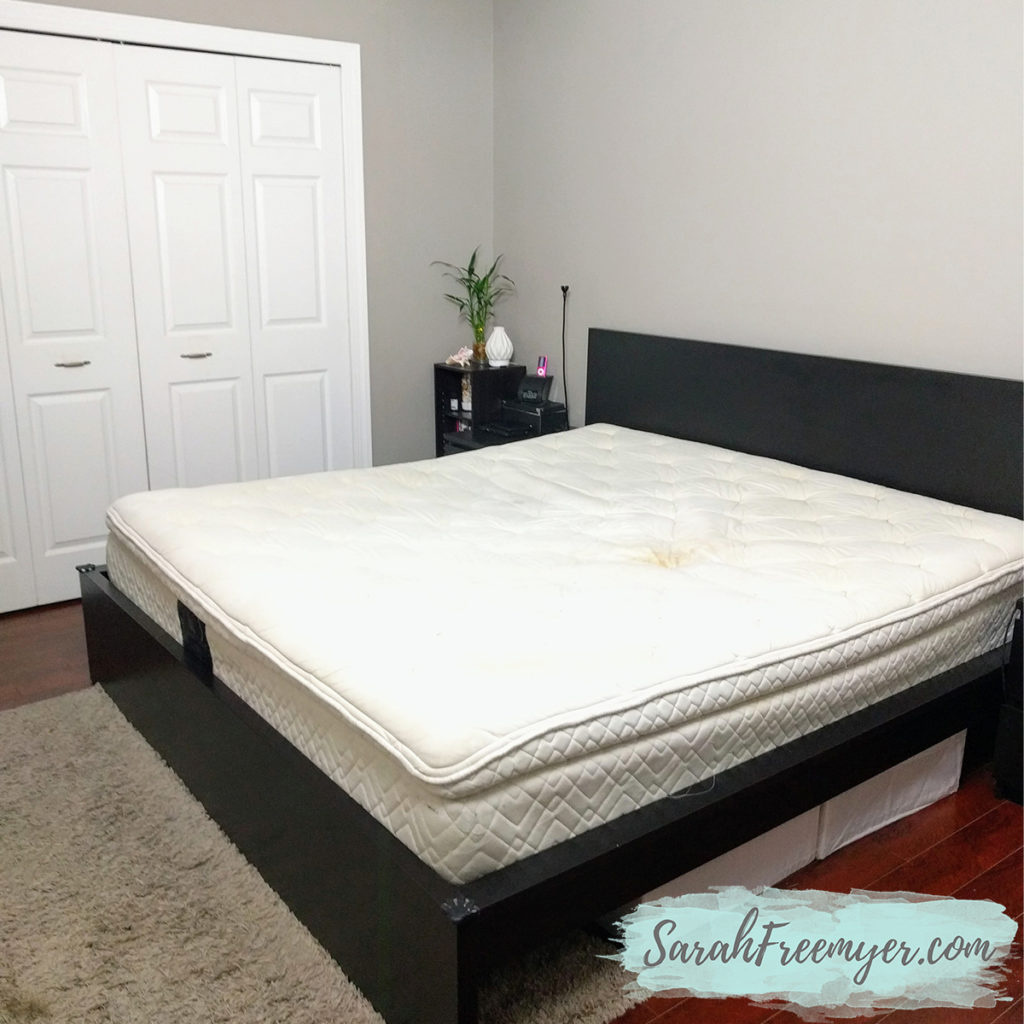 Our mattress was eight years old and had seen better days. It had two big craters where we normally slept and it sagged along the edges. We had been planning to shop the Memorial day sales to find our new mattress. Of the few brands we had been considering, the determining factor was ultimately going to be who had the best sale. That may sound a little crazy, but eventually, we were just going to have to pick one and try it out. You can only get so far by looking at pictures online.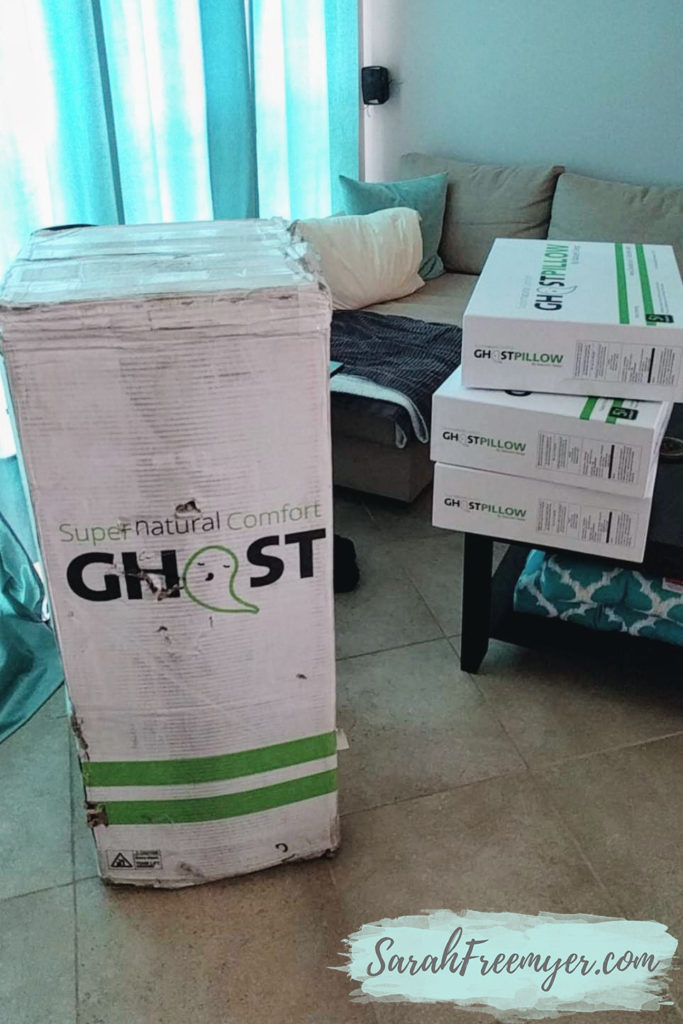 We decided on the Ghost Bed as they were offering $50 off and 3 free pillows for the Memorial Day sale. They have a 101 risk-free trial and they have a 20-year manufacturer's warranty. It was surprising to think that a king sized mattress was stuffed into that box!
After removing the large mattress burrito from the box, you cut open the outer plastic layer and unroll it onto your bed. Then you cut open the second plastic layer and the mattress begins to expand to its normal size.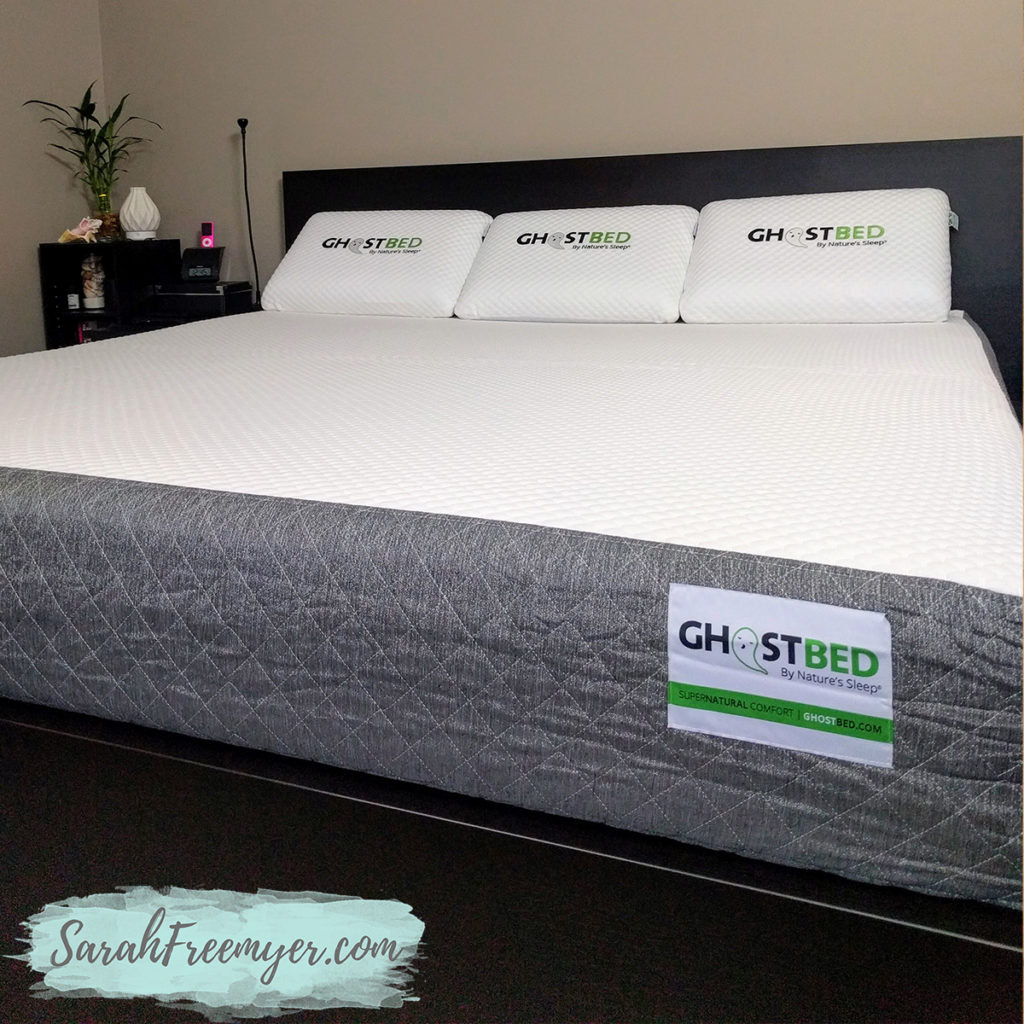 I was shocked to see how quickly it took shape! This picture was taken about 10 minutes after opening the plastic and the mattress was already fully formed. According to the instructions, it's ready to sleep on in one hour.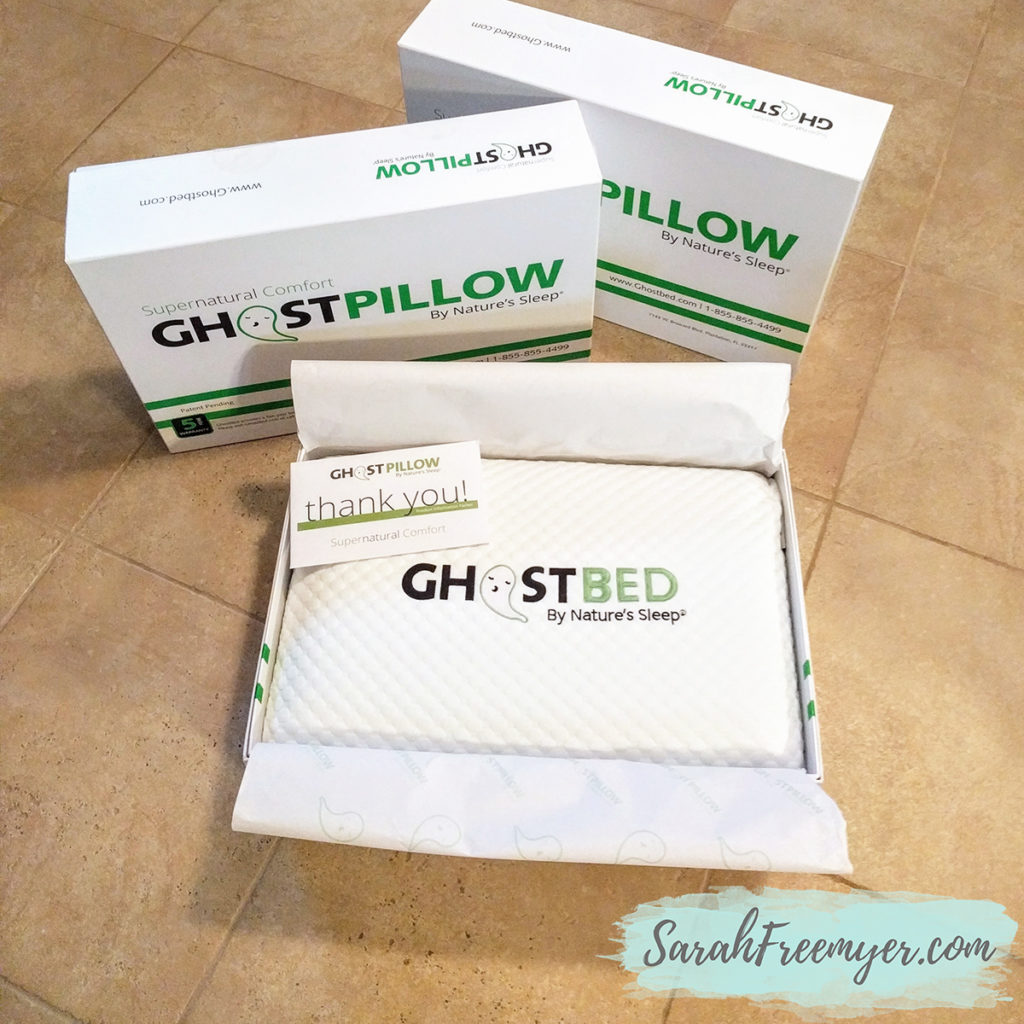 The pillows we received were packaged incredibly well! (I'm impressed by the little things and attention to detail.) Each one was in a dust slipcover, wrapped in tissue paper, in a nice box. The pillows are made of the same material as the mattress and they are super comfortable!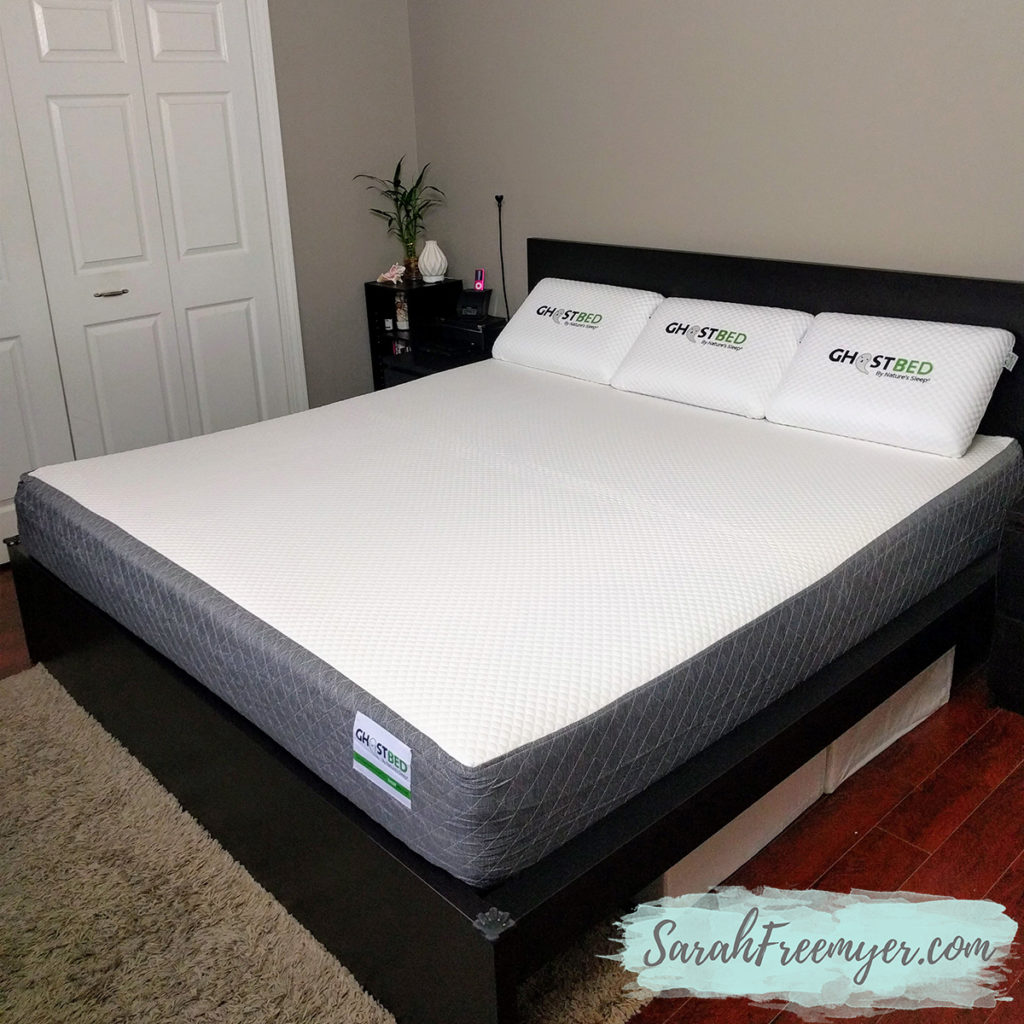 Here's it is about an hour after setting it up. You would never guess that it had been crammed into that small box!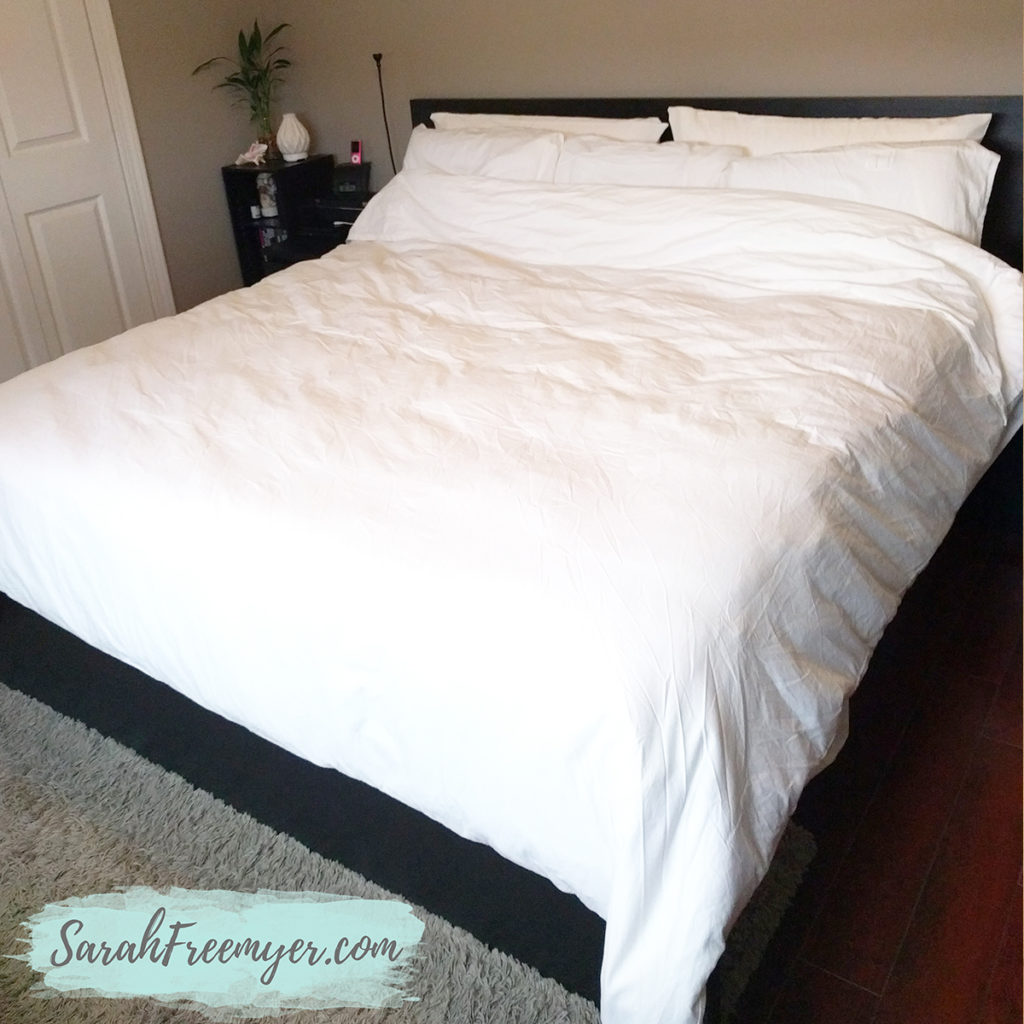 Here's the final product. I dare you to look at this picture and tell me what kind of mattress it is or where we bought it! It doesn't matter if you go to a store or shop online, good quality and value are what is important.

At this point we've been sleeping on our internet mattress for four months and we are still totally in love with it. Laying in bed, my spine feels supported and there aren't any pressure points. The mattress doesn't consume you like some memory foam types might; it has some bounce like a traditional mattress does even though its 100% foam. I sleep on my back and on my side and have been comfortable in any position. The Ghost Bed is marketed as having been designed to fulfill the needs of almost any sleeper. Ghost Bed is a medium-firm mattress and I would recommend it to anyone who likes that level of support.
All in all, we're very happy with our purchase and definitely recommend it to family and friends!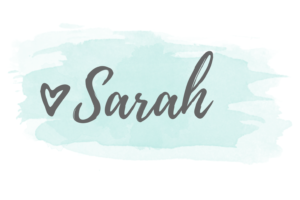 Please note: I did not receive any compensation for this post. I purchased this mattress and chose to review it.